この内容を日本語で見る

It's getting just a bit warmer.
The days are getting just a bit longer.
The flowers are in full bloom,
and the catch of the season is as tasty as ever.
It's been 7 years since the Tohoku Tsunami.
Come to Kesennuma and experience the vibrant beauty of Sanriku
and the unrelenting resilience of its people.

The Sanriku Coast is the 2nd most productive region for oyster aquaculture in Japan. The oysters produced here are called "Momare Oysters;" oysters massaged by the waves of the ocean. The first stop on the tour will take you to Karakuwa Peninsula, where you'll meet Masaya Hatakeyama, a local oyster producer. You'll take a ride on Masaya's boat and get a firsthand look at how a fisherman earns his keep. Kesennuma is also famous for "Sotenden," a locally-brewed sake. Sotenden preserves a special brand of their stock in the ocean, on the same rafts which are used to grow oysters. Get a good look, because you'll get to try some of this sake after lunch! After returning to port, you'll have lunch at the bayside oyster hut. Take a bit of time to kick back, relax, and enjoy a beautiful view of the bay.
In the afternoon, you'll return to the city center, where you'll get a chance to explore Otokoyama Honten, producer of Kesennuma's famous "Sotenden" sake. Get a tour of the facility from a brewer, and understand exactly what goes into making a really good bottle of sake. At the end of the tour, you'll get to taste a variety of the local stock. After getting your fill of sake, take a walk around the port and get a feel for what life is like in a Japanese fishing town.
In the evening, you'll head to your hostel for the night, Guesthouse Kakehashi. Kakehashi originally served as accommodation for volunteers who came to Kesennuma to support the town's recovery after the Tohoku tsunami in 2011. Now it serves as a hostel and bar; it's a community space where travelers from all over the world can meet locals from all walks of life. Have a home-cooked meal made with the freshest ingredients. Eat, drink, and be merry!

After a light breakfast at Kakehashi, you'll be on your way to Mt. Tokusenjo. Tokusenjo is home to over 50,000 azalea trees, all of which were planted by the locals! Hear the story of Tokusenjo from a local guide, and hike up the mountain stopping to enjoy the flowers in full-bloom.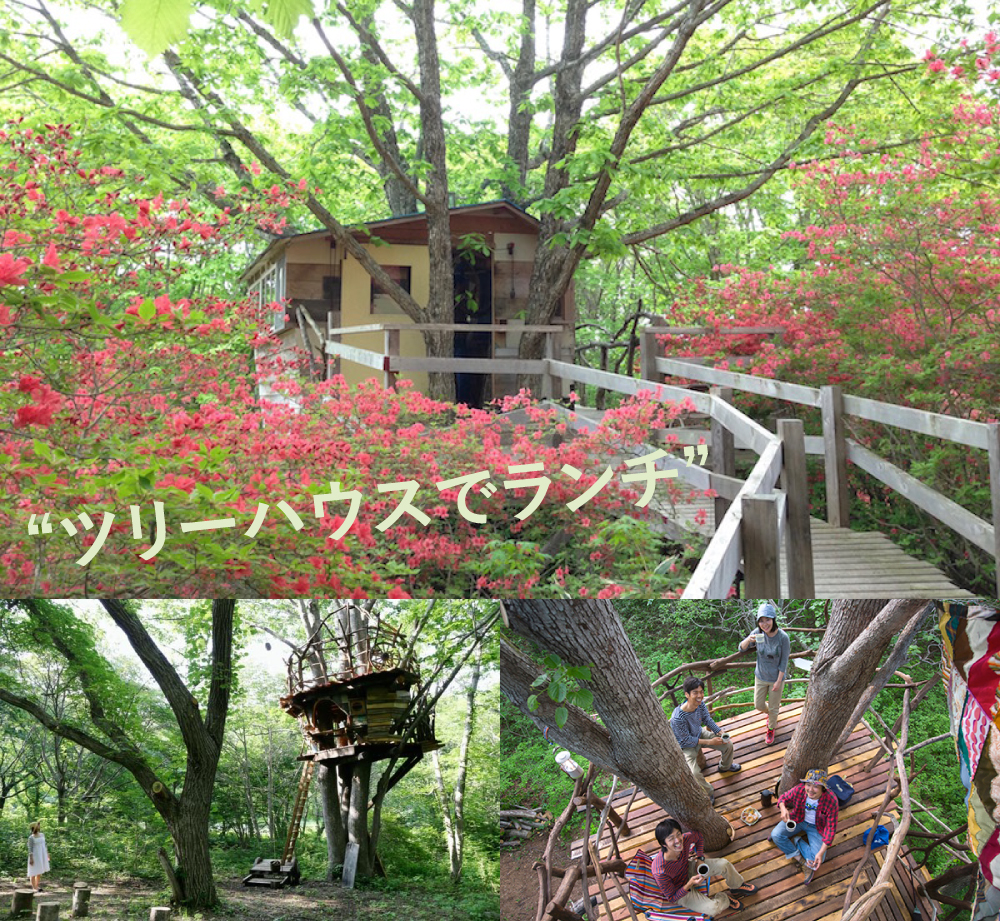 Tokusenjo is also home to "Tom's House," and "Dekita House," the first two treehouses of the "Tohoku Treehouse Project" which aims to build 100 Treehouses all over the Tohoku region. Stop in at Dekita House for a picnic lunch with a panoramic view of azaleas all around.
In the afternoon, head back to the city center for the tour's final stop: Umi no Ichi, a market symbolic of the recovery of Kesennuma Port.

May 26
(Sat)

Ichinoseki Station West Exit [Guests starting from Ichinoseki get on bus here](9:00)⇒⇒⇒⇒⇒Kesennuma Umi no Ichi [Guests starting from Kesennuma get on bus here](10:30)⇒⇒⇒⇒⇒Tobahira Factory(75 mins)⇒⇒⇒⇒⇒Lunch[Karakuwa Banya](60 mins) ⇒⇒⇒⇒⇒Otokoyama Honten(60 mins)⇒⇒⇒⇒⇒Murasaki Jinjamae Market(60 mins)⇒⇒⇒⇒⇒Guesthouse Kakehashi(17:30〜)・・・・・Dinner[Kakehashi](18:30〜)

May 27
(Sun)

Breakfast[Kakehashi](8:30)⇒⇒⇒⇒⇒Mt.Tokusenjo(120 mins)⇒⇒⇒⇒⇒Lunch[Tohoku Treehouse](75 mins)⇒⇒⇒⇒⇒(13:30)Umi no Ichi(60 mins)[Guests departing from Kesennuma get off bus here]⇒⇒⇒⇒⇒Ichinoseki Station West Exit(16:00)
※ Guests who come to Kesennuma by car, can leave their cars parked at Umi no Ichi(Free)
※ Guests with food allergies, please contact us in advance
Date

May 26th (Sat), May 27th (Sun)
※Tour bus departs from Ichinoseki, and meets Kesennuma guests at Umi no Ichi

Participants

10 (max), 5 (min)

Application Deadline

May 23, 2018

Tour Fees20,000yen
Includes all activities, all meals, accommodation at Guesthouse Kakehashi, and all taxes
Your Hostel: Guesthouse Kakehashi

Guesthouse Kakehashi was created after the 2011 Tohoku Tsunami. People who came to Kesennuma to support the town's recovery efforts were often without adequate accommodation. So we found a 50 year-old vacant house, and worked with the locals and with volunteers from all over Japan to renovate it. Ours is a humble, little hostel, so we might not be able to offer you all the amenities or conveniences you would find in a hotel. Instead, we offer you a community, a place to you can mingle with local farmers, fishermen and young people who have moved to Kesennuma City from all over the world. Welcome to Kakehashi. Welcome home.
※During the day, Guesthouse Kakehashi operates as a café for mothers to bring their young children. Many of the staff who work at this café are mothers who were affected by the disaster. A part of the proceeds from this tour, will be used to support their livelihoods.
施設名

Guesthouse Kakehashi

設備

Kitchen/Hand/Face Wash Area/Shower/Hair Dryer(Free Use)/Bath Towels 200 yen
Face Towels 100 yen/Toothbrushes 100 yen/Washing Machine 200 yen per use

所在地

55-3 Nagaisomaebayashi, Kesennuma-shi, Miyagi-ken 988-0224

TEL

0226-25-7739

Website
Bus Services Provided by Maruku Corp.Tour Developed by:
Kesennuma Tourism and Convention Bureau
Nishant-kck@k-macs.ne.jp
7-13 Uoichibamae, Kesennuma, Miyagi Prefecture 988-0037
TEL 0226-22-4560
<Cancellation Fees>
○ 20 days ~ 8 days before tour start, 20% of total tour fees
○ 7 days ~ 2 days before tour start, 30% of total tour fees
○ Day before tour start, 40% of total tour fees
○ Day of tour, 50% of total tour fees
○ No show, no contact, 100% of tour fees